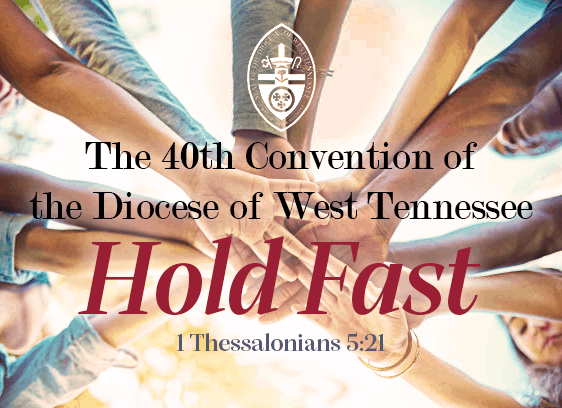 The 40th Convention of the Episcopal Diocese of West Tennessee
Friday, November 19 | 9 a.m. – 4:30 p.m.
Virtual with 5 Remote Host Sites 
UPDATE: November 17, 2021
Preparing for Diocesan Convention This Friday
We are looking forward to seeing you on Friday, November 19 for the 40th Convention of the Diocese of West Tennessee. Please arrive at the host site to which your faith community has been assigned by 9 a.m. to check in at the registration table. You can view your host site through the button above. 

*Please note that all non-parochial clergy who have registered to attend in-person are assigned to Calvary Episcopal Church.
 
 You should print any of the items for which you would like to have a hard copy at the Convention, with the exception of the Worship Leaflet, copies of which will be at the host locations.
The host locations have a variety of COVID protocols, which will be posted at the location. Please bring a mask in case one will be required at your location. 
 
When you arrive, please go to the registration check-in near the entrance to your location. Please confirm that your email address and cell phone number are correct when you check in.  If you are a Lay Delegate or a Canonically Resident member of the clergy, please check the back of your nametag to make sure it has a 4-character PIN.  You will use this for online voting.  If you are an Alternate, you will also have a PIN on the back of your nametag, but it will not be activated unless you are substituted in for a Delegate.  All substitutions must be made at the check-in location. 
 
You will need to bring a smart phone, tablet or iPad capable of connecting to the internet for electronic voting.  If you will need to borrow a device for electronic voting, please let the registration volunteers know at check in.
 
For the morning session, Alternates may sit with the clergy and Delegates of their faith community. However, after lunch, Alternates should sit in the "Non-Voting" area.
 
There will be coffee, pastries and other light food in the morning. Lunch will be provided at noon.
 
We anticipate our meeting will adjourn by 4:30 p.m.  We appreciate your service to our Diocesan community.
UPDATE: November 11, 2021
Preparing for Diocesan Convention 
We are looking forward to being with you at our virtual Diocesan Convention next Friday.  Our diocesan team and IT consultants have worked hard to make sure everything goes smoothly on November 19.  Attached are four documents for your review: the Order of Business, the Site Location Assignments, and the Nomination Summary.  We will share the Convention Booklet early next week.  Please note the following:
Remember to bring your mask next Friday. Each convention host site has its own masking policy.
Remember to bring a fully-charged electronic device for voting. Host sites cannot ensure availability of wall outlets for all voting delegates to charge their devices.
If you want paper copies of any documents (Order of Business, Nomination Summary, etc.), please print them and bring them with you.  No paper copies of these documents will be available at host sites.
Please check our website for up-to-date information about convention: https://edwtn.org/diocesan-convention-2021/
Registration will begin at 9 a.m. next Friday at each host site. Coffee, fruit, and pastries will be available in the morning, and lunch will be provided at noon. 
An orientation and overview of the voting process will take place at 12:30 pm next Friday.  We ask that you be seated and ready to participate in this session by 12:30 pm.
Alternates may check in at anytime, but they will be seated in a non-voting area until they substitute in for a delegate. 
Who May Participate
All active canonically resident clergy and lay delegates must register to fully participate at Convention.  Each Faith Community and clergy person who is retired, non-stipendiary, non-parochial and licensed to officiate will be informed of the host site to which they have been assigned. 
Congregations will have the same number of lay delegates as last year's Convention, and we will utilize the same host sites.  You must go to your assigned host site to be able to fully participate and vote.  We will observe social distancing and will require all participants to wear masks inside the venues.  
Persons can also register as guests, which will enable them to observe the proceedings via the diocesan website or on Facebook. Guests will not be able to participate or vote.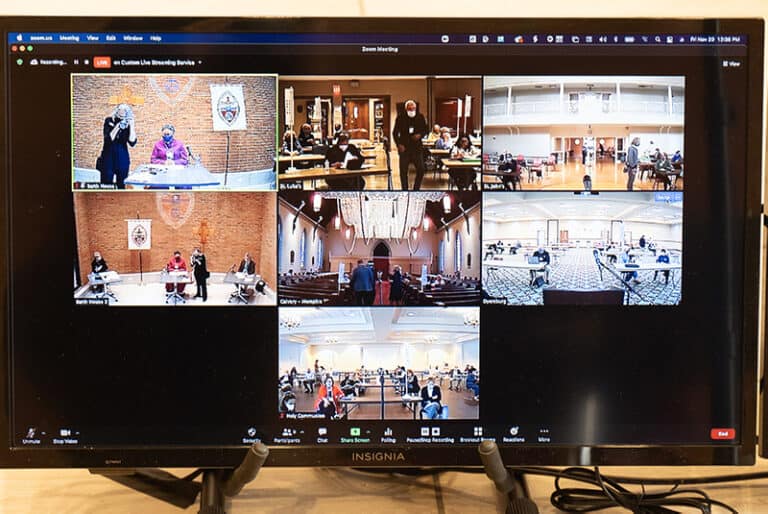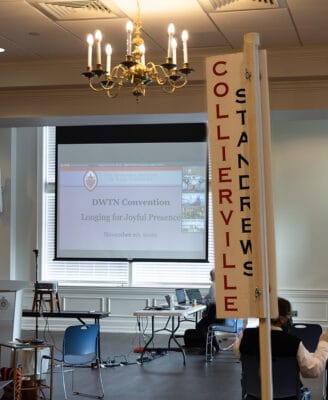 Fees & Amenities 
There is no registration fee for Convention, and lunch will be provided.  All delegates will need an electronic device with access to the internet to vote (for example, a smart phone, laptop, iPad or tablet).  Please inform your delegates of this requirement and encourage them to borrow an electronic device for the day if they do not own one.  There will be a few electronic devices at each host site for voting purposes.
Agenda
Convention will begin with registration at each host site at 9 am on November 19.  The proceedings will begin at 10 am with Morning Prayer at each host site, followed by small group conversations about the theme of Holding Fast.  
After a lunch break, we will regather virtually at 1 pm for diocesan elections, passage of the 2022 budgets for the Diocese and St. Columba, and any resolutions that may be submitted.  We will also acknowledge those diocesan leaders who have died since the last Convention in the prayers during Convention.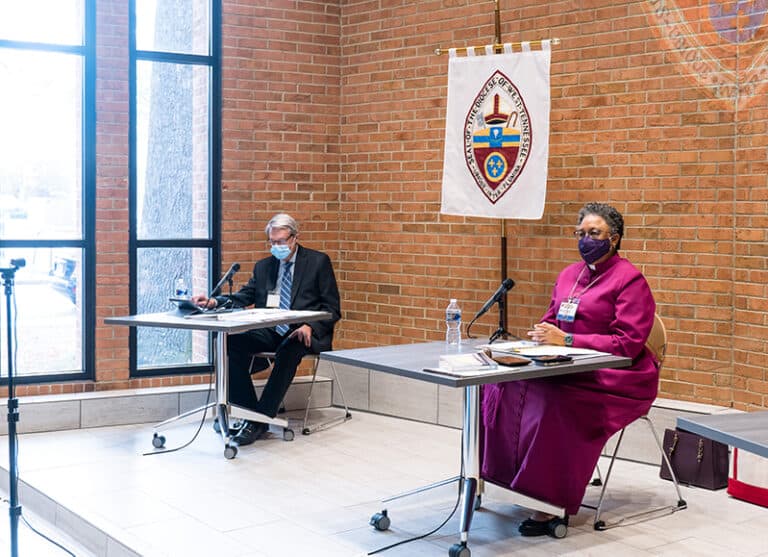 Registration
The deadline for registration forms is October 15, 2021, and the deadline for nomination forms is October 5, 2021.  Nominations received by October 5 will be published in the Convention book.