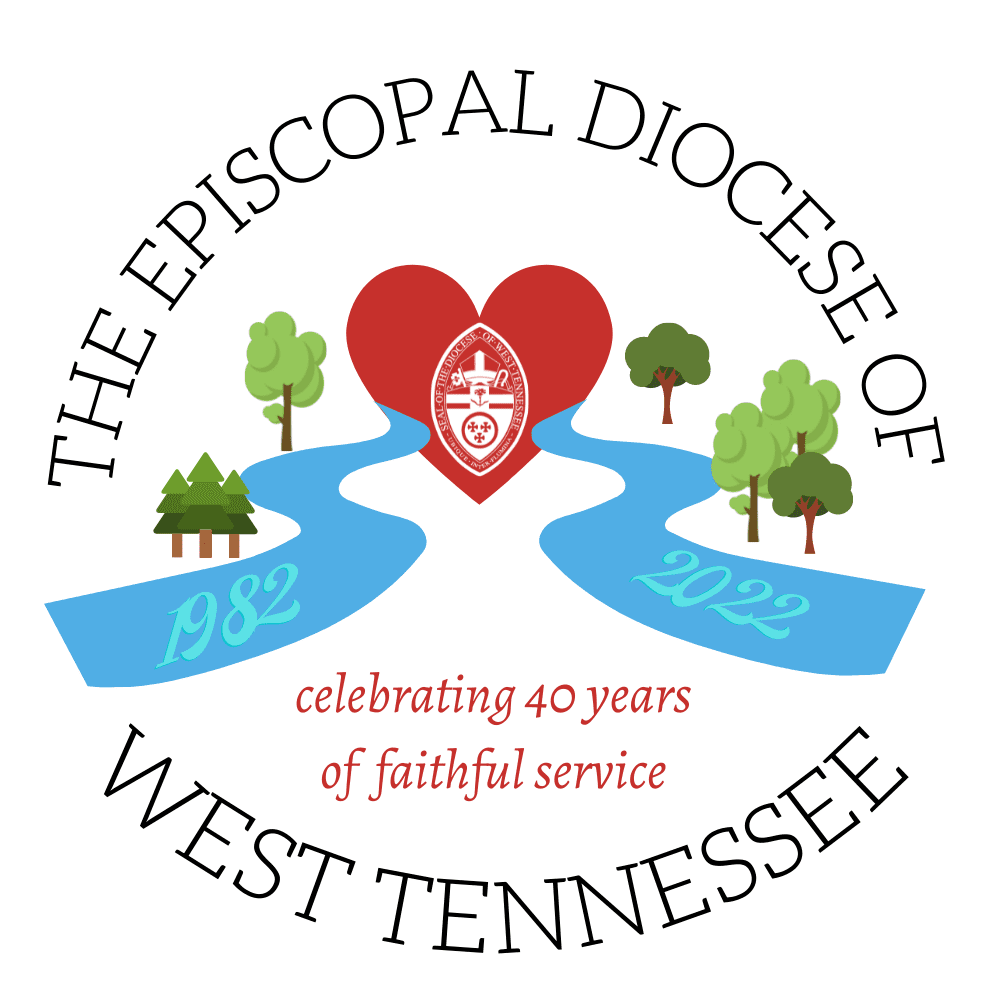 The 41st Convention of the Episcopal Diocese of West Tennessee
November 18-19, 2022
Church of the Holy Communion
4645 Walnut Grove Rd. 
Memphis, TN 38117
The 41st Annual Convention of the Episcopal Diocese of West Tennessee will convene at Church of the Holy Communion on November 18-19, 2022. This will be our first year back fully in-person for Convention since 2019, and we are thankful to our hosts, Church of the Holy Communion and St. Mary's Episcopal School, for their gracious hospitality. 
THEME: Celebrating 40 Years of Faithful Service
The focal point of this year's Convention will be the 40th anniversary of our Diocese, which officially formed in 1982. If you have memorabilia from churches or ministries throughout these 40 years of our history, please consider sharing it for the history table at Convention! Please contact the Diocesan Office if you would like to share items. 
40th Anniversary Eucharist & Luncheon
Don't forget that on Saturday, October 22, you are cordially invited to join us at Immanuel Episcopal Church in LaGrange, Tennessee for our 40th Anniversary Eucharist & Luncheon. Pre-registration is requested; please go to tinyurl.com/HarvestEucharist2022 for complete information and to register. 
Building BRIDGES 
Another Memphis-based organization that is celebrating a special anniversary this year is BRIDGES, which was established as the Church Mission of Help in 1922. Episcopalians in West Tennessee have been a source of vital support to BRIDGES throughout its 100-year history of promoting the wellbeing of youth and young adults so that they can achieve their potential as important contributors to our community. The Saturday agenda at Convention will include a panel discussion recounting and honoring the Diocese of West Tennessee's partnership with BRIDGES over the years, highlighting the ways that individuals and churches can support the work of BRIDGES today. This portion of the Convention will be open to registered attendees only; however, Diocesan and BRIDGES leadership are working together to create meaningful ways that all Episcopalians in West Tennessee can continue supporting the good work of BRIDGES as it begins its next century. Look for those opportunities after Convention. 
Diocesan Eucharist
One major change to our in-person Convention is worship. In previous years, only Convention delegates participated in the Eucharist. 

This year, all Episcopalians in West Tennessee are invited to worship together. Bishop Phoebe will celebrate the Holy Eucharist on Saturday, November 19 at 9 a.m. in the Nave of Holy Communion. This service will be livestreamed, and nursery will be provided. This will be the only portion of Diocesan Convention that will be livestreamed. 

We will send out reminders about the Diocesan Eucharist in the weeks leading up to Convention. Registration is not required, but if you plan to attend and anticipate utilizing nursery care, please let us know so we can make sure we have enough staff on-hand. 
Who May Attend Convention
With the exception of the Saturday morning Diocesan Eucharist, which is open to the public, registration is required for all other Diocesan Convention participants. 
Faith Community Registration. Clergy serving faith communities, lay delegates, and lay alternates should register as a group with their faith community. Please consult the Diocesan Convention website for full information about the number of delegates from each faith community and other important information. 
Individual Registration. Anyone who is not registering as part of a faith community should register as an individual. Guests and non-voting clergy may observe the proceedings of Diocesan Convention in person, but they will not have voice or vote.  
Exhibitors. Please click here for full information about being an exhibitor at Convention. 
 
Delegation Sizes
The number of delegates a faith community may send to Diocesan Convention is determined by Diocesan Canon 1.7. Based upon the Average Sunday Attendance (ASA) set forth in the Faith Community's 2021 Parochial Report, the faith community may register the following number of delegates:
ASA 1-100 = 4 Delegates
ASA 101-250 = 5 Delegates
ASA 251 and above = 6 Delegates
A faith community may also register an equal number of alternates. NOTE: If you are registering more alternates than the registration form allows, please email the information on the additional alternates to the Diocesan Administrator: diocese@episwtn.org. 
Fees & Amenities 
FEES
Diocesan Convention fees include breakfast, lunch, and dinner on Friday and breakfast on Saturday. 
Clergy & Lay Delegate: $100/ person
Alternate Lay Delegate $65/ person
Non-Stipendiary, Retired, Non-Parochial & Licensed Clergy: $65/ person
Guests: $65/ person
HOTEL ACCOMODATIONS
A block of rooms has been arranged at DoubleTree Hotel, located nearby Church of the Holy Communion at 5069 Sanderlin Ave., Memphis, TN 38117. Room rate for the Diocesan Convention is $123/night for one night only. To receive this discounted room rate, reservations must be received by Tuesday, November 11, 2022. 
Please click here or go to https://tinyurl.com/DioCon2022DoubleTree to make a reservation. 
VOTING DEVICES
All voting members of the Convention, as well as alternates, will need an electronic device with access to the Internet to vote (for example, a smart phone, laptop, iPad or tablet). Please inform your delegation of this requirement and encourage them to borrow an electronic device for the day if they do not own one
Agenda
Convention will begin with registration at each host site at 9 am on November 19.  The proceedings will begin at 10 am with Morning Prayer at each host site, followed by small group conversations about the theme of Holding Fast.  
After a lunch break, we will regather virtually at 1 pm for diocesan elections, passage of the 2022 budgets for the Diocese and St. Columba, and any resolutions that may be submitted.  We will also acknowledge those diocesan leaders who have died since the last Convention in the prayers during Convention.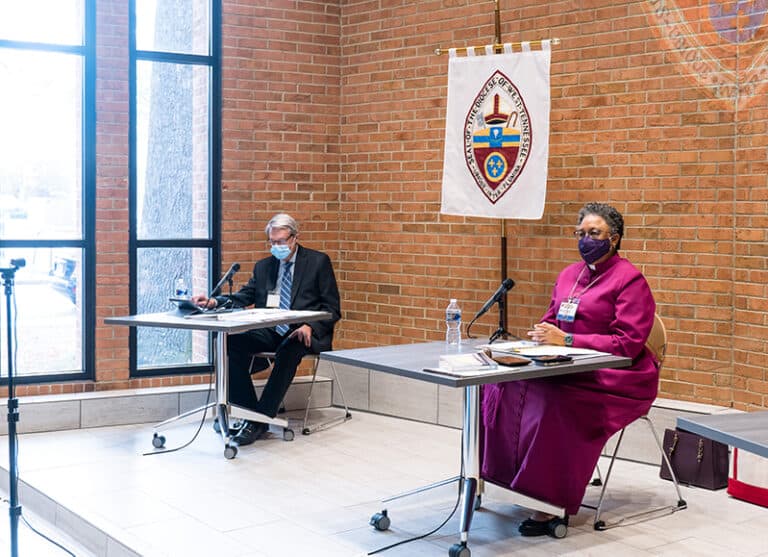 Registration & Nomination Deadlines 
The deadline for registration is October 17, 2022.  Nominations received by 5 p.m. on November 4, 2022 will be published in the Convention booklet; any other nominations must be received by noon on November 17, 2022 to salexander@episwtn.org to be included on the ballot.
Submission Directions
Please select the office below for which you are making a nomination and download the form. You can fill out the form electronically or print it out and complete it manually.
Please obtain the nominee's signature (electronic signatures are acceptable) and biography.
Submit the completed form via email to diocese@episwtn.org, or send it by mail to:
The Diocese of West Tennessee
Attn.: Elise Patterson
692 Poplar Ave. 
Memphis, TN 38105