Back to the Basics – Annual Recovery Retreat
October 29 @ 4:00 pm

-

October 30 @ 5:00 pm

CDT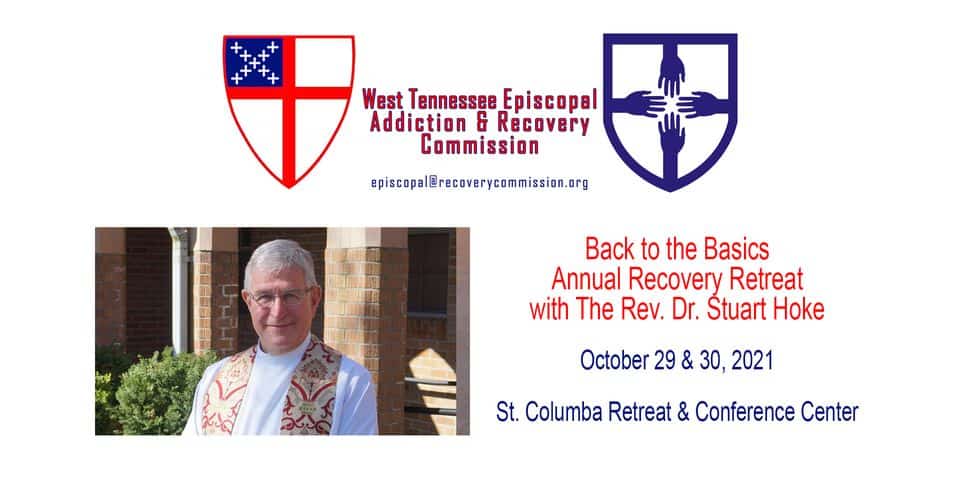 Back to the Basics – Annual Recovery Retreat
October 29 & 30, 2021
St. Columba Retreat and Conference Center
We will follow CDC, Shelby County and St. Columba guidelines for masking and distancing.
As we begin coming out of the isolation of the pandemic, we invite you to make plans now to join us overnight in the peaceful woods of St. Columba at our 4th annual Recovery Retreat, October 29th and 30th. This year the retreat will be led by the Rev. Dr. Stuart Hoke and will focus on our need to get back to the basics of recovery.
Stuart describes his intentions for our retreat like this, "Having just celebrated my 34th anniversary as a sober man, I can't help but reflect on the fundamental truths of our program; and what they did for the likes of us in our various soul-diminishing, life-threatening struggles. These basic spiritual maxims are found in the first three steps of the sacred Twelve. Our times for sharing in our October gathering will highlight the great triad—I can't; God can; I'll let God."
A friend in recovery just wrote me and said, "I am living proof that God can take a hopeless, almost dead man, turn him into a feeling, loving, grateful being." He ends his note with words so reflective of a person in recovery—"hugs and love." I think of Al-Anon's powerful declaration that "we are people who have been devastated by the disease of alcoholism, and YET…" Join me as we "trudge this road of happy destiny" taking these basic truths to a place of love and hugs."
The retreat begins at 4 p.m. on Friday and ends about 5 p.m. on Saturday with a closing recovery Eucharist. Dinner Friday and breakfast and lunch on Saturday are included in the cost. There will be guided meditation by Bishop Phoebe and some of our members, an open 12 step meeting at the fire pit, free time for exploring the vast grounds, s'mores, a time for fellowship and much more.
Overnight space is limited so be sure click here (
www.backtobasicsretreat.eventbrite.com
) to register as soon as possible. Registration Fee: $135 for double occupancy or $175 for single occupancy. Cost includes retreat registration, overnight lodging and all meals. Day rate with meals, but no overnight stay $65. For more information call, text or email Shannon Tucker at 901-281-0785 or shannon.tucker@gmail.com or Laura White at 901-210-1833 or psychle768@gmail.com.
Scholarships Available through the St. Philip Scholarship Fund. Please email Laura or Shannon for information.