Happening 69
September 16

-

September 18

$150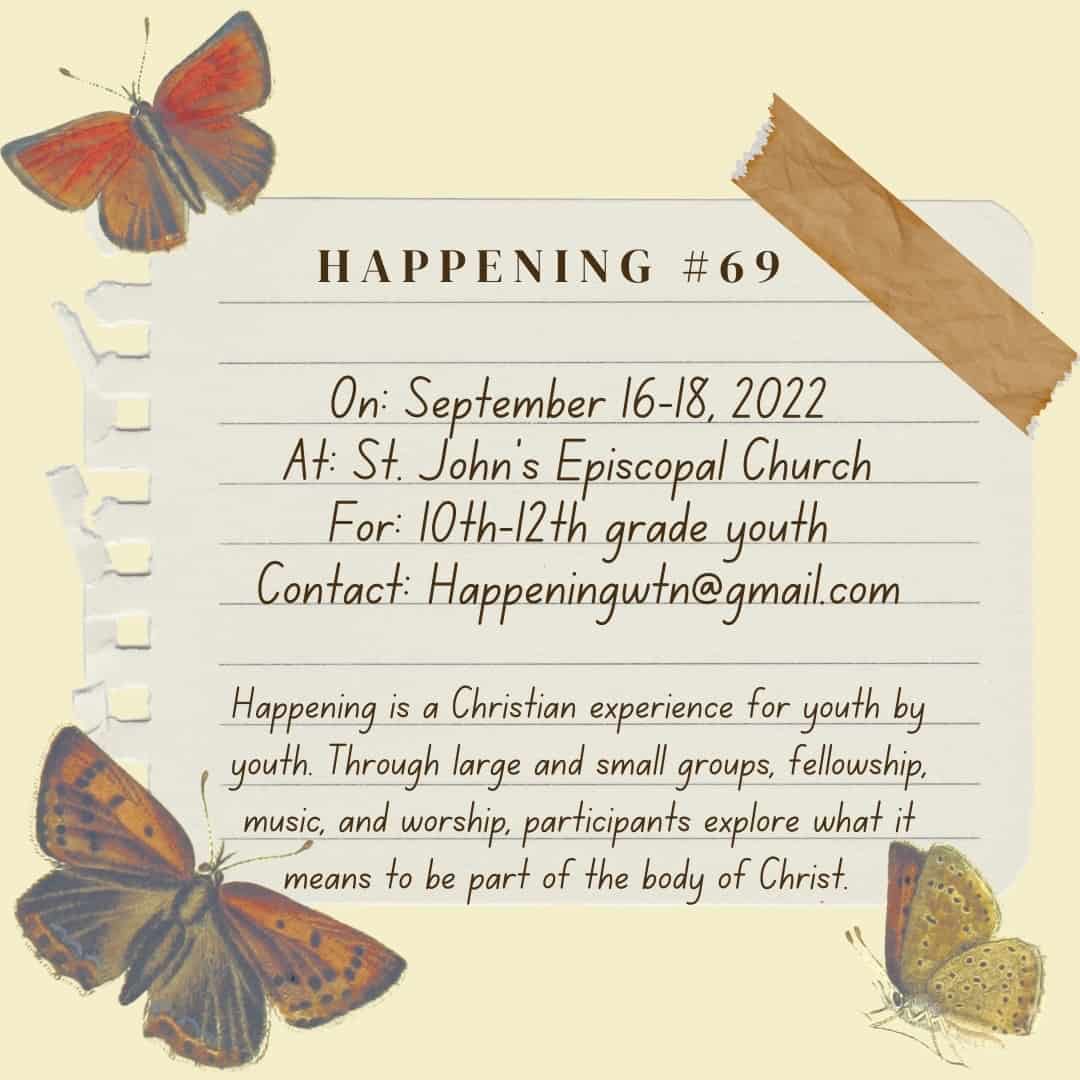 Happening is a Christian experience presented by youth for youth with the help of clergy and lay adult leadership.  This experience seeks to bring young persons and adults to a fuller personal knowledge of and relationship with the Lord Jesus Christ and to a deeper level of commitment and apostleship.
Who may attend?
Any student in 10th-12th grade may attend Happening. Adults who are involved in youth ministry are also encouraged to attend Happening.
What is the Registration Policy?
Happening operates on a first come first served basis. Completed (forms & money) registrations are accepted in the order they are received until the Happening is full or the deadline date is reached.  Any incomplete registrations received after the Happening deadline or after the Happening is full will be returned.
What is the Registration Procedure?
Complete the registration with youth minister or priest signature, and Medical Release Form.
Send Form and $150.00 to this address:
ATTN: Happening WTN
Church of the Holy Communion
4645 Walnut Grove Rd.
Memphis, TN 38117
Make checks payable to Happening West Tennessee.
You can also pay via paypal, http://www.paypal.me/happeningwtn
When is the Happening registration Deadline?
The final registration deadline ($150) is Friday, September 2, 2022 at 11:59 p.m.
What is the Happening stance on Covid-19 inoculation?
Happening of West Tennessee requires that any participant in the Happening weekend be vaccinated against Covid-19. Booster shots for those eligible will also be required.
What do I need to bring to a Happening Weekend?
This Happening will be hosted by a church, in this case St. John's Episcopal. To this Happening, you need to bring the following: casual and comfortable clothes for the weekend (you do NOT need a dressy outfit for Sunday), something to sleep on/in (air mattress [if you go this route, consider also providing an air pump], sleeping pad, sleeping bag, pillow[s], blanket[s], etc.) shower toiletries including a towel and shower shoes, and a water bottle.
During the weekend, we will ask you to turn in the following items, so as not to be distracted by the outside world: cell phone, iPod, iPad, laptops, watch, etc. Please do not bring valuables, tobacco, alcohol or nonprescription drugs, firearms, fireworks or weapons of any kind.
What if I cancel?
If you notify Happening leadership one week prior to Happening, we will refund your registration fee minus a $75.00 processing fee. If you do not call and cancel, there is no refund. There is a lot of preparation that goes into Happening. Please give prayerful consideration and talk to your child before signing them up.
What if I need financial aid?
Finances never prevent a person from attending Happening. If you need financial aid to attend Happening, please contact your parish priest, youth minister, or happening advisor at happeningwtn@gmail.com.
Questions? Email Happening at happeningwtn@gmail.com or ask your clergy or youth minister!
Related Events