Lenten Wednesdays at GSL
March 22 @ 5:30 pm

-

7:15 pm

CDT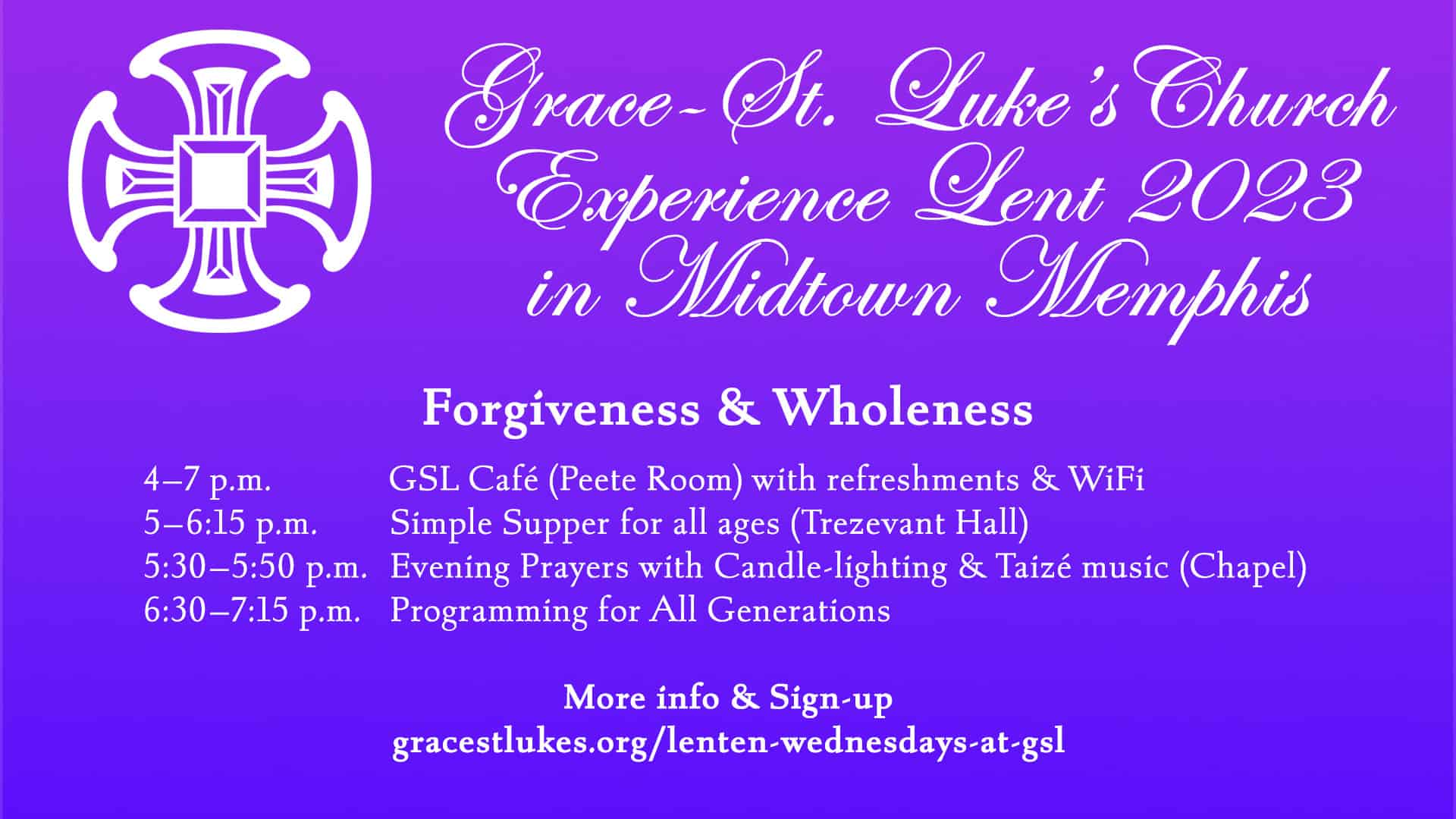 Lenten Wednesdays at GSL. Noon, Holy Eucharist in the Chapel (30-minute service); 4–7 p.m. GSL Café (Peete Room) with Coffee & WiFi; 5:30–6:15 p.m. Simple Supper (Trezevant Hall); 5:30–5:50 p.m. Evening Prayers with Candle-lighting & Taizé music (Chapel); 6:30–7:15 p.m. Programs for All Ages (Several Spaces). If you're coming for supper, let us know here and ask others to do the same. For details about 6:30 topics and events for adults, youth, and children, and much more, explore Lenten Wednesdays at GSL. March 22, and 29 will be extraordinary days in life at GSL. Spread the word!
March 22 Program–No Future without Forgiveness
Children: (Green Room) Through stories, games, and activities, we will learn about God's mercy and love. There will be nursery available with adaptations of the activities for our littlest Christians!
Youth & Adults: (Trezevant Hall) Learning to Forgive with Alex Kor, son of Holocaust survivor Eva Kor. Join special guest Alex Kor, as he shares the life and legacy of his mother, Eva. Eva Mozes Kor was a survivor of Nazi Dr. Mengele's twin experiments and became famous in her later life for her public forgiveness of her Nazi abusers. (Mickey Kor, Eva's husband and Alex's father, was also a survivor of the Holocaust.) Although Eva passed away in 2019, Alex has continued her work of testifying to the power of forgiveness for our own healing.
Related Events