MGAL Annual Star Artist Juried Exhibition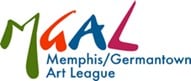 Memphis/Germantown Art League Star Juried Art Exhibition at St. George's Episcopal Church Art Gallery, 2425 S. Germantown Road, Germantown, December 1, 2023 – January 15, 2024. This exciting show will feature award-winning artists that have earned the Star rating. The judge for the exhibit will be Jed Jackson, Professor of Painting, University of Memphis.  A reception with the artists will be December 9, 2023 from 3-5 p.m. at St. George's.
The Memphis/Germantown Art League (MGAL) of Memphis, TN, is a nonprofit organization of visual artists and associates supporting the work of its member artists. The League's purpose is to aid its member artists in their professional growth and in the development of their artistic skills by providing exhibitions, workshops, demonstrations, and other continuing education opportunities. The group exhibits in the Memphis area at Memphis Botanic Garden, Playhouse on the Square, Germantown Performing Arts Center, St. George's Episcopal Church Art Gallery and WKNO Gallery Ten Ninety-One.
Organized on August 16, 1976, as the Germantown Art League, the organization's name was later changed to Memphis/Germantown Art League in recognition of the wider geographical distribution of its members. Today MGAL's membership encompasses the Mid-South area including nearby communities in Mississippi, Arkansas and western Tennessee. Meetings are held quarterly, see website at https://mgal.org
A portion of the proceeds from sales in The Gallery supports the work of Carpenter Art Garden, which brings the arts to the underserved Binghampton community. St. George's Art Gallery is located within St. George's Episcopal Church and is accessed through the front doors.  The Gallery is open M – F from 9:30 a.m. – 4 p.m. and Sundays from 9:00 a.m. to 12:30 p.m.
Related Events