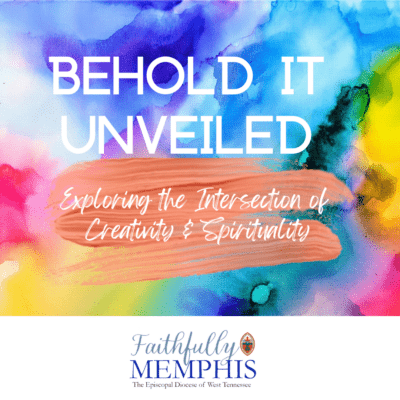 This Fall on Faithfully Memphis, join us for a new series – Behold It Unveiled – that explores the intersection of creativity and spirituality through conversations with artists, musicians, and makers whose faith informs their work.
Whether we're wrapping those experiencing grief in a banner of love like the folks of Holy Trinity, threading beads together for the people of Ukraine like St. Luke's Jackson parishioner Casey Jordan, or performing any number of other creative acts, God's presence often feels especially close when we engage in creative activities.
New episodes of Faithfully Memphis are released each Thursday at 8 a.m. on WYXR 91.7 FM and later in the morning on the podcast, available on Apple and Spotify.
Series Lineup
August 25: God's Gift
Emily Austin talks with Clarence Davis, who is creating the art for the 2022 EDWTN Christmas card, about his lifelong love of creative expression.
Sept. 1: Threading Love
In her first time hosting Faithfully Memphis, the Reverend Lisa McIndoo (Church of the Holy Apostles) chats with Casey Jordan, parishioner at St. Luke's Jackson, about the role creativity plays in his spirituality.
Sept. 22: Making Art Work
Josh Horton is a creative entrepreneur focused on the social and economic impact of design and creativity. In this episode, the Reverend Jonathan Chesney (Holy Communion) will talk with him about the upcoming Creative Works conference in Memphis.
Oct. 6: Awakening the Senses
For Darrell Willis, founder of Chinesha's Closet, creativity is a big part of self-care – both for himself and for the customers who shop his small batch candles and aromatherapy products. Join the Rev. Jesse Abell (Grace-St. Luke's)as he talks with Darrell about how his creative business kept him buoyed during his cancer journey.
Oct. 13: A Joyful Noise
Join the Reverend Hester Mathes (Holy Trinity) in conversation with Jeanne Simmons. A musician recognized for her involvement in a broad array of classical music activities in Memphis, Jeanne has performed with the Germantown Symphony, the Memphis Symphony Orchestra, and numerous productions at Theatre Memphis and The Orpheum Theatre.
Oct. 20: Cosmic Reset
In her bio on her website, artist Maggie Russell says that she has "lost count of the blessings" that have materialized in her life since she made artwork her full-time job. In this episode hosted by another Faithfully Memphis newcomer, Rev. Katherine Bush (Calvary Episcopal Church), learn about what inspires Russell to pursue beauty.
Oct. 27: Preserving, Celebrating, Advancing
Lar'juanette Williams is an award-winning singer, dancer, actress, writer and arts administrator whose credits include E.R, Chicago Hope, Seinfeld, NYPD Blue, Spy Hard, Ghost of Mississippi, and Night Stand. She is also the Executive Director of Memphis Black Arts Alliance. In this not-to-be-missed episode, learn how throughout the changes in her life, faith has always remained central.