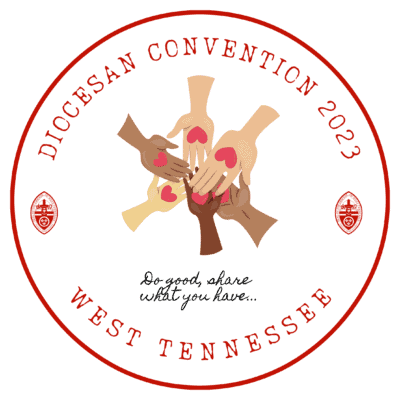 The 42nd Convention of the Episcopal Diocese of West Tennessee
Friday, November 17, 2023
Saint John's Episcopal Church | 3245 Central Ave.; Memphis, TN 38111
About 
The 42nd Annual Convention of the Episcopal Diocese of West Tennessee will convene at Saint John's Episcopal Church on November 17, 2023. We are grateful for our host, Saint John's, for the hospitality and graciousness that they have already extended as we prepare for Convention.  
 
Let us continually offer a sacrifice of praise to God, that is, the fruit of lips that confess his name. Do not neglect to do good and to share what you have, for such sacrifices are pleasing to God.
 (Hebrews 13:15-16) 
 
The theme of this year's Diocesan Convention, Do Good & Share What You Have, reminds us that making sacrifices of love knits us together with our neighbors and with each other. With that in mind, our time together at Convention this year will include an onsite group service project supporting the Community Alliance for the Homeless. More information about this project is forthcoming. 
Who May Attend Convention
Anyone may attend Diocesan Convention. Convention is Registration is required for all Diocesan Convention attendees.
Please note: All voting members of the Convention, as well as alternates, will need an electronic device with access to the Internet to vote (for example, a smart phone, laptop, iPad or tablet). Please inform your delegation of this requirement and encourage them to borrow an electronic device for the day if they do not own one.
Faith Community Registration. Clergy serving faith communities, lay delegates, and lay alternates should register as a group with their faith community. 
Individual Registration. Anyone who is not registering as part of a faith community should register as an individual. Guests and clergy who are not canonically resident or licensed in the Diocese may observe the proceedings of Diocesan Convention, but they will not have voice or vote.
Exhibitors. Please click here for full information about being an exhibitor at Convention. 
 
Delegation Sizes
The number of delegates a Faith Community may send to Diocesan Convention is determined by Diocesan Canon 1.7. Based upon the Average Sunday Attendance (ASA) set forth in the Faith Community's 2022 Parochial Report, the Faith Community may register the following number of delegates: 
ASA 1-50 = 2 Delegates 
ASA 51-100 = 3 Delegates 
ASA 101-200 = 4 Delegates 
ASA 201-300 = 5 Delegates 
ASA 301 and above = 6 Delegates 
A Faith Community may also register up to an equal number of alternates.  
Fees 
Clergy & Lay Delegate: $100/ person
Alternate Lay Delegate $65/ person
Non-Stipendiary, Retired, Non-Parochial & Licensed Clergy: $65/ person
Guests: $65/ person
Registration Deadline
The deadline for registration is October 16, 2023. 
Elective Offices and Nominees
Each year, lay persons and clergy are encouraged to run for diocesan positions and participate in Diocesan Convention as delegates.  The church functions at her best when there is collegiality and collaboration from throughout the Diocese. We want our diocesan bodies to reflect a variety of perspectives from the 21 counties in West Tennessee where our congregations are located.
If you have never considered serving on a diocesan committee, talk with your clergy person or one of your wardens to learn more about this important work.  We need your voice at the table.
Nomination Form Instructions:
Please select the office below for which you are making a nomination and download the form.
Please obtain the nominee's signature (electronic signatures are acceptable) and biography.
Submit the completed form and biography (Word document) to the Rev. Sharon Alexander, Canon to the Ordinary: salexander@episwtn.org.
Nominations received by 5 p.m. on November 3, 2023 will be published in the Convention booklet; any other nominations must be received by noon on November 16, 2023 to the Rev. Canon Sharon Alexander: salexander@episwtn.org.
University of the South Trustee