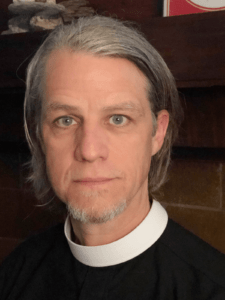 The Episcopal Diocese of West Tennessee is pleased to announce that the Rev. Dr. Noah Campbell will serve as diocesan College Missioner and Vicar at Good Shepherd Episcopal Church effective July 1, 2020. In his role as College Missioner, Noah will provide an Episcopal presence and ministry at the University of Memphis and other institutions of higher education in Shelby County. At Good Shepherd, Noah succeeds the Rev. William Fry, who recently retired after serving as priest at Good Shepherd for 26 years.
Noah has been involved with the diocesan conversation regarding the resumption of the Barth House ministry at the University of Memphis for the past four years. Noah was ordained as an American Baptist Church minister in 2002 and an Episcopal priest in 2016. He served as Executive Director of the Memphis Center for Food and Faith from 2012 to 2018 and is an adjunct professor at Memphis Theological Seminary. Since 2018, Noah has been the Assistant Rector at St. George's Episcopal Church in Germantown.
Noah has a Bachelor of Arts in History from Southwest Baptist University, a Master of Arts in Exegetical Theology from Covenant Theological Seminary, a Doctor of Ministry from Pittsburgh Theological Seminary, and he completed a year of Anglican Studies classes at the University of the South School of Theology. Noah and his wife Allyson have two sons, Leo and Felix.