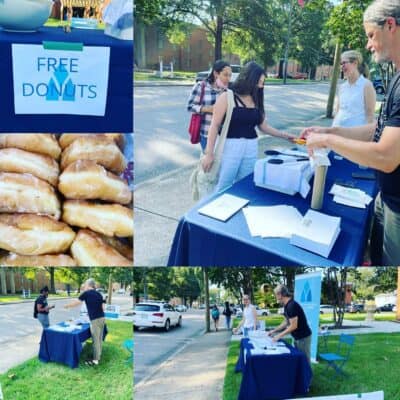 Back in August of 2021, on the first day of fall semester at the University of Memphis, the Barth House team set up a donut stand on our front lawn. We handed out about 225 donuts, along with flyers and best wishes and blessings. Of the hundreds of donuts given out, only one was dropped… and that by a member of the Memphis basketball team! He dropped the donut. Turnovers continue to plague this team! However, I'm writing this article in the wake of an important come-from-behind road win for the Tigers, so there's hope. And there's plenty of hope at the Barth House, too.
The highlight of our time on the front lawn on the first day of class? We were able to help many students find buildings, classrooms, and parking spots. A few of these brand new college students were near tears, anxious and worried. We were able to help, to offer a prayer, to lend a hand (and a donut). These sweet moments of ministry reminded us of our reason to be.
Like new college students, we learned in our first semester. We've honed a nice routine of liturgical offerings. Wednesday noon Eucharist. Thursday Evening Prayer and (free) yoga. Sunday Compline, after the (free) meal we offer students and volunteers. Speaking of … pulling off the semester of Sunday evening meals, we couldn't have done it without our team of volunteers: those who prepared home-cooked meals and ordered-in pizzas and salads, and of course those who week-in, week-out led the setup, service, and cleanup. We're looking at you, Bobbie!
We're pleased with the first steps of our arts programming, too. We hosted multiple recitals in the Great Hall. We welcomed two authors for readings. We watched and discussed three outstanding films with a local filmmaker, and screened the meaningful documentary Mission: Joy. Many of you were able to use the space for retreats, meetings, and prayer. We're also grateful to have become the home for a Thursday morning men's Bible study and a local youth chorale, which rehearses at the Barth on Tuesday evenings. And did you make it to the inaugural Advent Arts Market in December?
During our first semester of programming, we dropped the donut a few times. Some ideas, tried and failed. We learned a lot. This spring, we're aiming for a stronger in-person ministry presence on the many higher-ed campuses in our diocese. We're solidifying our regular programming of liturgy and the arts. We're hoping to continue to be a good gathering place for groups in the diocese and the community. We're looking at opportunities for young adult ministry and interfaith events. To keep up with all the Barth House happenings, we encourage you to sign up for our regular e-newsletter. We are grateful for your prayers and support.