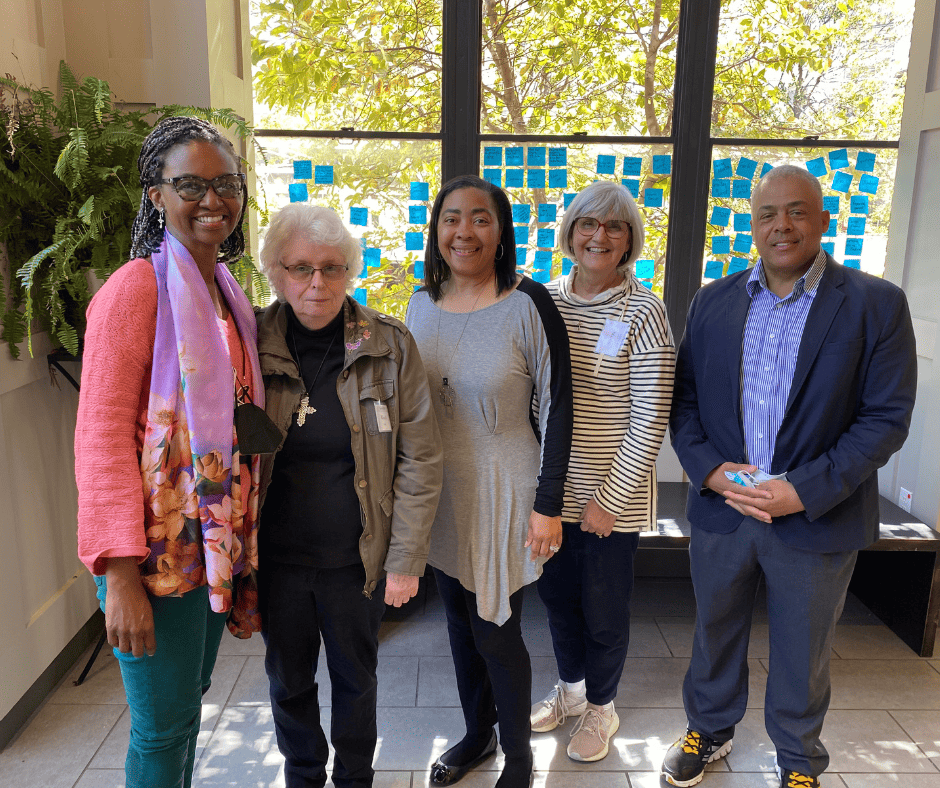 Rebirth and restart are themes that have been on everyone's mind over the past year. Questions that we were already asking about the future of organized faith were only pressed by the pandemic. In some ways, this new era that we find ourselves in is extraordinary: the stakes have never been so high to explore new paths, and the opportunities for growth and exploration have never been so ample. What does faith community vitality look like in a post-pandemic era? What is the church, really? What does it mean to be a gathered people? What is our purpose in gathering?
Episcopalians in West Tennessee aren't the only Christians asking these questions about the future of our churches. Indeed, the Society for the Increase in Ministry (SIM) — an independent organization that supports Episcopal students and organizations — has been asking them in some form since its founding in 1857. And in late 2022, lay leaders from small churches in West Tennessee gathered in Atlanta, Georgia for LeadersCARE training offered by SIM. The training aimed to "knit together a learning community sharing ideas and helping one another strengthen the church and increase ministry in powerful ways."
Here's an excerpt from our conversation with EDWTN participants Alisa Kelly (Canon for Finance & Administration); Martha Webb and Wanda Clark (Emmanuel Episcopal Church, Ripley); and Lavonnie and Swazoo Claybon (St. Paul's Episcopal Church, Mason).

EDWTN: Can you tell us about the conference you all recently attended?
Martha: We went into this training with the thought that it would help our own church grow.
Wanda: We thought we would get tools to grow membership. None of us thought we would go out to recruit other churches to get them involved. It's important to keep these rural churches alive.
EDWTN: How do you describe Emmanuel Ripley Church, Martha?
Martha: We are a small church and consider ourselves family. We spend a lot of time in relationship with one another with the Lord guiding us to pastor others. We are very hospitable. We welcome everyone and create programming outside the church. We are an aging church, but our youngest member is ten years old. Growth within our own church is challenging being in the economy and rural community we are in. To grow, we have to be a presence in our community.
Wanda: If more people knew about us and the Episcopal Church, we could reach more people and grow. While there's a strong church community, many are unchurched. It's an opportunity to invite and encourage people to visit.
EDWTN: We have something special to offer and we value learning and being in community with one another.
Swazoo: It gave us the opportunity to reflect and see where we wanted to go. I wasn't sure what to expect, but once we got there and started listening and learning about one another, I think that experience of sharing where we are and what we see as our Christian apostleship to live out God's will helped us get to the point where we, at least, had a starting point to think about goals and a way forward.
EDWTN: I believe I remember Alisa saying that there's been some good clay put on the spindle to take what we learned and share with others in the Diocese. Can you speak to that, Alisa?
Alisa: As a result of attending, we came up with a goal. Our goal is as follows: Come help us grow God's holy garden and be a voice for unity, hope, love and truth by creating and facilitating in the Mathew 7:16 Congregational Teams.
Lavonnie: The central theme was all about what our church looked like if it was on fire. That really resonated because at St. Paul's we have 17 to 19 people in person and some online. It really makes us think about our story and how we share it to grow God's holy garden. We have to step out of our comfort zone. We started with our youth and received some interesting feedback about their involvement. We learned that some things were missing for them, like music.
EDWTN: What are next steps for you all? And what keeps you all motivated to do this work?
Martha: During Advent, we used the skills and ideas we learned and shared at the conference to meet with a large group of online parishioners. It was extremely satisfying that after the first session we had everyone back and no one ran screaming. I know there's a dying of a spiritual world that I grew up in and that's a tragedy, but I believe in the Episcopal liturgy and what grew me closer to God. In a time with so much stress and distress, we have the opportunity to bring people into the fold.
EDWTN: Why does this work matter to you?
Wanda: We are so divided, but even with this division we can be there for one another. The church and the belief in Christ can bring us together. It's about God and loving our neighbors.
EDWTN: That's why I love my church as well. We are not of one mind.
Lavonnie: What motivates some of the parishioners including myself is that the church is a place to disagree and discuss issues and process them together. For example, conversations around intergenerational trauma and healing the shame and guilt some of us feel or have felt.
Swazoo: I think unity is something we are called to as Christians. The Episcopal Church is good at communicating and breaking down barriers. I think we have to call out others and bring out the love, unity and love. As we carry out our apostleship, I believe we can stand in the gap and on the word of Jesus that we will be able to be strong to carry out the will. It only happens with strong Christian leadership.