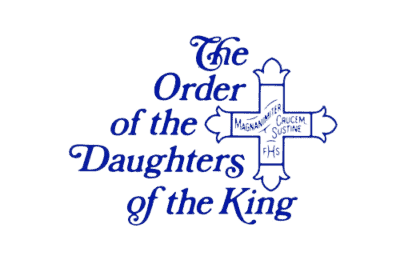 We, along with our 25,000+ sisters of The Order of the Daughters of the King ® around the world, including our special sister diocese of Haiti, have taken a lifelong vow of prayer, service, and evangelism, especially to women and girls.
Since its founding in 1885, each member of The Order has dedicated herself to the extension of Christ's kingdom and the strengthening of her own spiritual life and that of her parish. Several chapters of The Order in West Tennessee sponsor retreats to which all women are invited, and each chapter serves its parish in its own special ways.
Twice a year, Daughters from throughout the diocese gather for sharing, business, a meaningful program, Eucharist, and lunch. For those who are interested in the broader ministry of The Order, Province IV holds spring and fall conferences at Kanuga Conference Center in Hendersonville, NC, where approximately 150 Daughters from the southeast United States gather for worship, fellowship, and excellent speakers. Every three years, delegates and others from around the world come together for Triennial, usually just prior to the Episcopal Church's General Convention.
Dana Sue Percer, President (danapercer@gmail.com)
Anne Boykin, Membership Chair (boykinap@gmail.com)
The Rev. Paul McLain, Chaplain