The Reverend Hester Mathes, priest-in-charge of Holy Trinity and chaplain of the Memphis campus of St. George's Independent School, was traveling when news broke earlier this Summer that a gunman had opened fire on a parish potluck at Saint Stephen's Episcopal Church in Vestavia Hills, Alabama.
Like countless others in West Tennessee, her heart broke – for the people whose lives were taken, for those who would mourn them, and yes, for her friend from childhood and colleague, the Reverend John Burruss, the rector of Saint Stephen's.
"Having grown up down the street from John, I wondered what we could do. Each idea sparked another idea."
Mathes, a former art teacher and musician whose artistic and creative roots often inform her ordained pastoral ministry, devised a plan: the "garland of love" project. Holy Trinity invited people from across the diocese to cut out fabric hearts and decorate them with prayers or words of encouragement for Saint Stephen's. Once completed, parishioners at Holy Trinity would stitch the hearts together to create a bunting banner for the Saint Stephen's community, a tangible reminder of the prayers ascending from West Tennessee.
"I thought we might get 25 or so hearts," recalls Mathes, "and that we could hand-stitch them together during a Sunday coffee hour."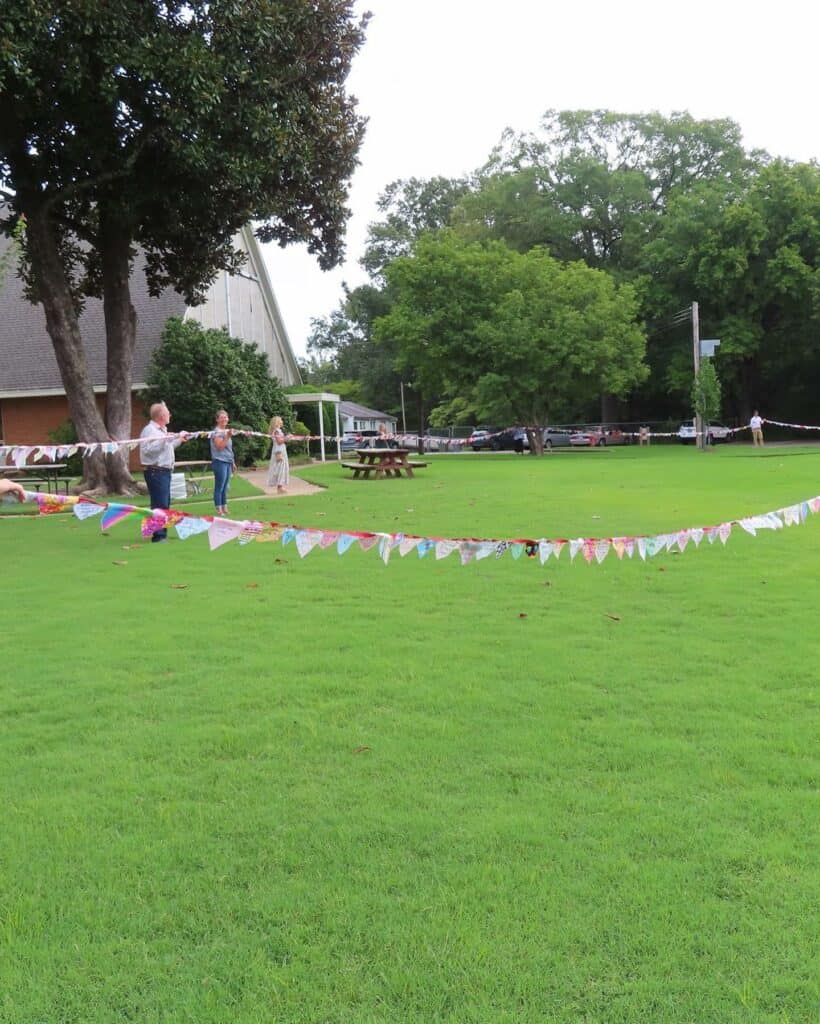 She did not expect the tremendous response that she received. Cloth hearts poured in from nearly every church in the diocese. Locally, Special Friends Fellowship Club, St. George's varsity soccer team, and Faith Baptist Church got involved, too, but word about the project traveled as far as Virgina, Colorado, and California. A parishioner at St. George's in Germantown even donated funds to cover supply costs that would inevitably arise.
"We used 408 feet of ribbon to bind the hearts together…more than 816 hearts, at last count."
Mathes credits the success of the project – at least partially – on a typo.
"The Holy Spirit moment was when I wrote July 30 rather than June 30 as the deadline for people to send us their hearts. With this longer lead time, other churches and groups could participate."
The longer lead time will also convey to Saint Stephen's that they haven't been forgotten.
"We will be sending the garland of love to Saint
Stephen's several months after the deadly incident – right around the time when condolences and remembrances are petering off," said Mathes. "Being intentional about sending love and care to those experiencing loss around the time when the rest of the world has 'moved on' is, I hope, a reminder to the Saint Stephen's community that we haven't forgotten what has happened."
With the success of the project, a "sew-a-thon" at the Barth House took place early in August to prepare the garland to be sent to Alabama.
"As I looked around the room at the Barth House and watched as we were putting the garland together," said Mathes, "it really felt like prayer in action. We read the prayers as we sewed them and noticed the differences between the the hearts that people selected and the things that people writing. The very act of creating was a prayer."