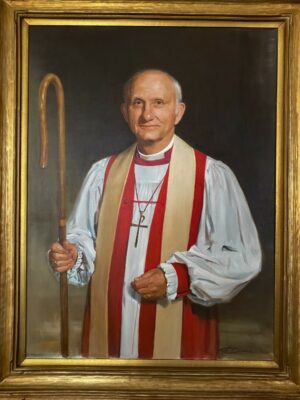 Dear Sisters and Brothers,
I am saddened to inform you that the Right Reverend Alex D. Dickson, the first Bishop of the Diocese of West Tennessee, died on November 14.
Bishop Dickson was consecrated as the First Bishop of the Episcopal Diocese of West Tennessee on April 9, 1983. Prior to his consecration as Bishop, he served 10 years as a Parish Priest in the Diocese of Mississippi; 4 years at Rolling Fork and Hollandale; 6 years in Jackson; and then he served as Rector and Headmaster of All Saints School in Vicksburg for 15 years. He was elected as the First Bishop of West Tennessee in 1983.
In 1995 he retired as Bishop of West Tennessee. At the time of his death, he was serving as Bishop in Residence at St. Michael's Church in Charleston. He was also Chairman of a Mission to a Leprosy Colony in Liberia. His greatest passion was to bring people to a deep faith in our Lord Jesus Christ. He loved to work with people in small groups, teaching them to pray the Scriptures. He was working in this ministry until the day of his death.
During World War 11, he served on a destroyer in the Pacific during the Battle of Okinawa.
He was born on September 9, 1926, on New Africa Plantation near Alligator, Mississippi. He married Charnelle Perkins of Glen Allan, MS on October 7, 1948. They have three sons: Alex III (now in Heaven), Charles in Sylva, NC, and John in Memphis, TN; six grandchildren and fifteen great-grandchildren. God is good! Charnelle died on October 16, 1995. He married Jane Graham Carver of Charleston, SC on January 2, 1999. Jane has three children and six grandchildren. God is good!
He departed this life and came face to face with Jesus on November 14, 2021. A Requiem Eucharist will be celebrated at St. Michael's Anglican Church on Thursday, November 18 at 2:00 p.m. with burial date and plans to be announced. The family will receive friends in the churchyard immediately following the service.
"I am the resurrection and the life, saith the Lord; he that believeth in me, though he were dead, yet shall he live; and whosoever liveth and believeth in me shall never die." Praise the Lord!
Memorials may be given to G3 Ministry (led by his stepson) The Rev. Graham Schuyler, 76 Westfield Drive, Pawleys Island, SC 29585. A memorial message may be sent to the family at www.jhenrystuhr.com.
Please join me in praying for the comfort of Jane and all who mourn his death.
Peace,
The Rt. Rev. Phoebe A. Roaf